Friends!

It's been a whiiiiiile! Trust me, when I'm not writing and blogging, I'm thinking about ya! Is anything new in your life? I can't believe we've already reached the month of November, which I have to admit is one of my favorite months- LOVE Thanksgiving, easily the number 1 holiday in my book. If there's something I miss about the Midwest, it's the transition into fall/winter.
Growing up, I loved seeing the leaves on the trees change color; I lived in Michigan for 5 years and played travel hockey during that time. Some of my favorite memories were being on the road with my old man- cruising all over the state of MI (both the upper and lower peninsula!), crashing hotel rooms, playing puck, and observing the natural wonders of that beautiful state. Anywho, here's to you having a wonderful month of November, enjoying some nature, and of course fabulous food, friends, and family.
Soooo, the last time we talked I was super excited because we had just secured some new seeds- Humboldt Sour Diesel (5), Cream Caramel (2), and White Widow (1). I had decided to plant three of the Sour Diesel, the two Cream Caramel, and the White Widow. I went through the germination process with no problems and planted the seeds, going through the standard process.
The three Humboldt Sour Diesel sprouted small seedlings within 2-3 days. The White Widow came along without a problem, but the Cream Caramels never popped a seedling. I kept up the water process on the CC for about 2 weeks and still- nothing. Around that time, the White Widow started to dry up and died off. About a week later, the same thing started happening to one of the Sour Diesel seedlings! Dramaaaaaa.
Seedlings are very delicate; I didn't think I was over watering so I began to investigate the seedling and soil. I noticed some odd, tiny spore type fungus growing in the bottom of the pot. I had never seen anything like that during my growing sessions so I decided to investigate the bag of soil, which immediately gave me an answer- there was mold and bacteria growing in the soil. The bag was somewhat old, a couple months and purchased back in summer. Prior to planting the seedlings, the soil appeared to be of a decent quality (plus I had used it with some other house plants a few weeks prior), but lesson learned people- always start with a fresh bag of soil when planting new seeds!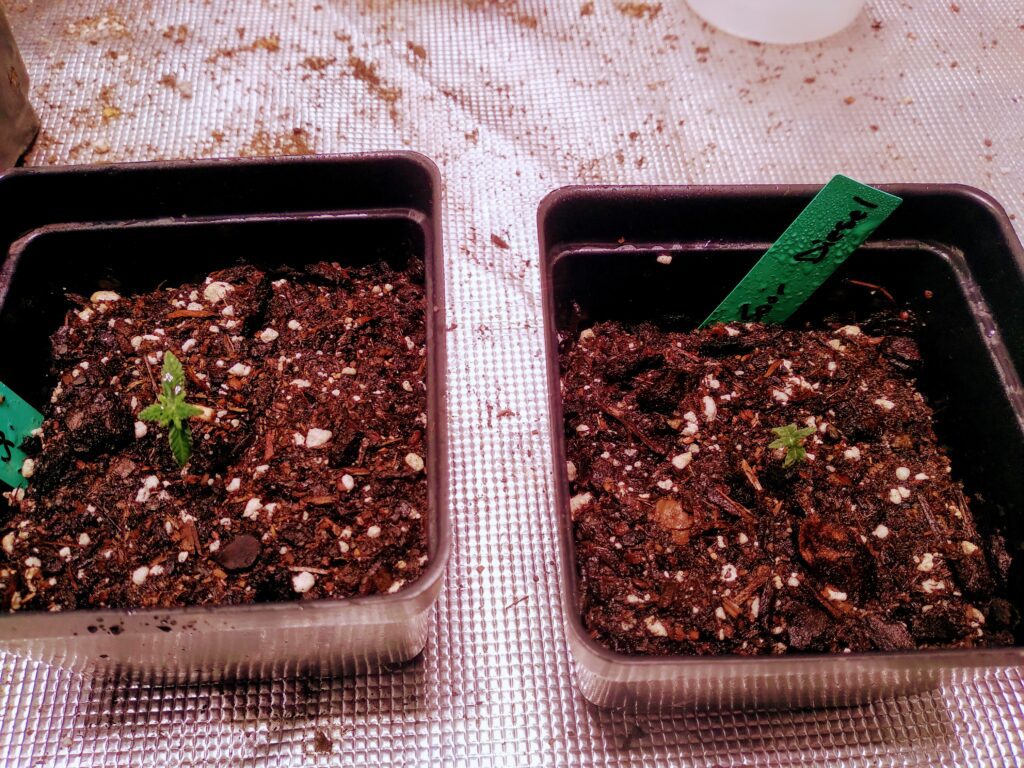 Huge bummer! We lost five seedlings and about 6 weeks of time. Total setback, but all you can do is get started again. After disposing of the bad seedlings and soil, I germinated the last two seeds of Humboldt Sour Diesel. They germinated without a problem and were immediately planted in a nice, fresh pot of Happy Frog soil. They have been in the soil since Saturday, October 23rd and appear to be happy and growing at a rapid rate.
The plan is to keep these two sustained and possibly add a few more to the mix (which would require ordering some new seeds from our vendor- always a fun process picking out the strain!). In order to add more seeds, we'll have to make that decision rather quickly so that they can be on somewhat of a cohesive schedule. Eh, we'll see. The Sour Diesel is supposed to produce mega nugs, so ideally we'll be swimming in them from these two plants if all goes well.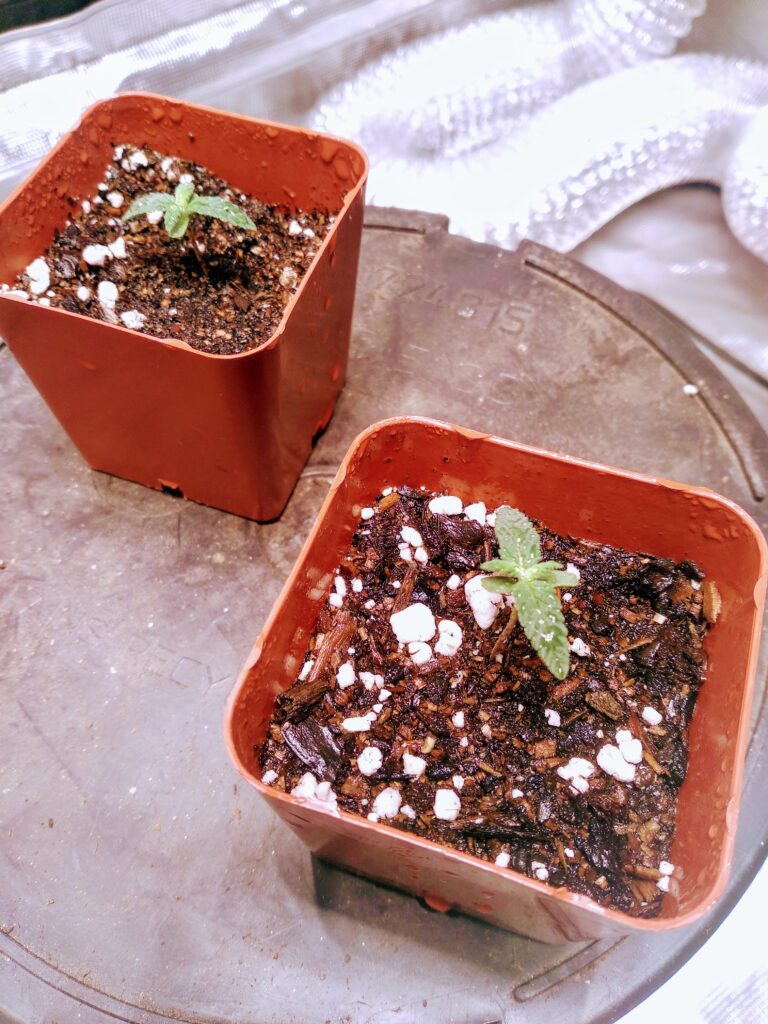 In other news, we're excited to announce that the Death with Dignity Podcast will officially be launched on Friday, November 5th, 2021. It's wild to think that we've reached this point- it's been a fun, cathartic, and reinvigorating project with the opportunity to interact with some very unique and intelligent individuals. The best part is that we have zero expectations with this Podcast; if people listen- great. If not- that's OK too. As mentioned, I feel we've gained from this valuable experience (at least I know I have).
So, naturally, I have to share the information about the Podcast. First, we'll have a website which will be online starting Friday, so make sure to check out the blog on this Friday, November 5th, to get the website information! And of course, the whole social media business; follow us on Twitter @DeathWithDignityPodcast. We also ask that you subscribe on Spotify or Apple Music, and give it a listen if interested! If nothing else, Episode 2, starring Suzy Flack, is quite powerful and worth a listen.
Come Friday, we will release the first three episodes of the DWD Podcast series. We'll plan to release the remainder as things move along, likely resulting in 7-10 total episodes. We encourage you to reach out with any feedback or share with anyone who you feel may benefit from the subject.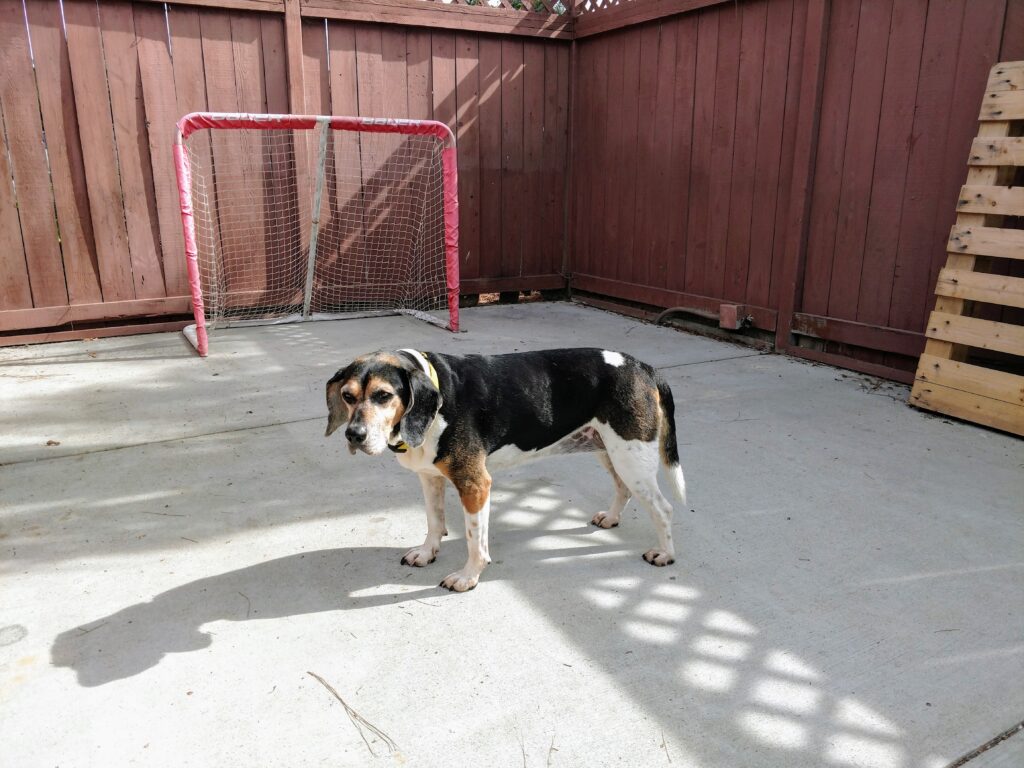 We understand it's a difficult and somewhat taboo subject, but it's our hope that by listening, you gain something positive from the episodes. Ideally, this podcast will provide an opportunity to slow down, reflect, and help identify what is truly important to you. Thank you friends, for being so supportive throughout this journey. It's been a wild ride and I figure we'll keep ridin' the wave, taking it one day at a time. I love hearing from you, so feel free to reach out via email, text, phone call, telegram, whatever!
Finally, a while back, a friend shared this Hindu prayer with me, "Lokah Samastah Sukhino Bhavantu" which translates to, "May all beings everywhere be happy and free and may my thoughts, words, and actions contribute to the happiness and freedom for all." Believe in the good!,
TCK