Hey people-
I can't believe today is April 1st! This year has been cruisinggggg by at a rapid pace. Things have been busy with appointments, visitors, and other personal projects. Physically, I've been feeling really good, better than I have in a long time. I feel the new meds are really doing their job; of course, there is always pain management and some funky side effects mixed in but I'm handling those as they come. Mentally/emotionally, I'm doing my best to maintain that state of "eternal optimism", looking for the good. Overall, things are going in a good direction, including the Humboldt Sour Diesel plants that I recently harvested, trimmed, and are now in the curing phase! Lots to discuss people- I encourage you to pack a bowl (maybe snag a beverage if that's your thing) and get comfy because this is a decent blog post.
Let's go back to November. I was in rough shape at the time; I could feel the disease taking over and negatively impacting my body, causing severe pain in the lower abdomen, my ass, and ultimately impacting various other body functions. This led to a hospital stay, PICC line placement, tests, scans, bloodwork- THE WHOLE ENCHILADA; but it also led to the medical team finding an infection and prescribing the proper medication to fix me up. I was in bad shape for a while there, but after getting the infection under control, things started to get better. The hospital stint did lead my oncologist to suggest that we mix in a new type of treatment to synergize with the current Immunotherapy regime I was on. This new drug was technically developed for people with lung cancer, but it applies to my scenario as I have the same mutation in my colorectal cancer that this drug will attack. It is in pill form, something I take twice a day for three consecutive weeks, followed by an off week. The goal is to possibly work our way up to 4x a day, although you can imagine that increasing the dose will also increase toxicity in the system resulting in more severe side effects.
I'm currently taking this new medication 2x/day, while going to UCSD for an infusion of the two other Immunotherapy drugs every 4 weeks. I've noticed that when I have the infusion, it makes for a long weekend and days thereafter, as the three drugs circulate through the body, working hard to combat the disease. Some of the side effects include severe fatigue, rashes, joint/muscle pain, funky immune system stuff, and random other ailments that we don't necessarily need to explore. I think I'm most surprised by the fatigue; I find that if I get up and move, I can fight the fatigue by staying active with beachwalks, tending to plants, and other light physical activities. As soon as I lay down or post up on the couch though, it's like a black hole- the fatigue sucks me in and there is no escape. At times, I wake up for the day and it feels as if I ran a marathon the day before, while other days it feels like I got hit by a truck; ultimately though, if I can keep the body moving, I can stay alive. So the goal is to get to the beach every day, easy enough motivation as it's one of my favorite places on the planet.
I try not to complain regarding my situation, although I wanted to take time to describe some of the side effects as I've found some people wonder what this experience entails. Don't get me wrong, I've had plenty of "pity parties" for myself and have been stuck in some negative spots; it's crucial that we experience these emotions, really feel them, and have a good cry every now and then. Ultimately though, doing that on the daily- bitching and moaning about my problems, doesn't seem that fun to me and I don't think it'd do all that much for me in a positive sense. Also, as my Nana Gedles used to remind me, "There's always someone in a worse situation than yourself, be thankful for what you have". This is truth, especially given my situation with cancer. Yes, I have cancer; however, I've seen a lot of really sick people, and the fact that I still have the ability to walk to the beach, play video games, go out with friends or lace up the skates every now and then is a gift.
Speaking of lacing up the skates- I've got loads to share with you about my last outing on the ice. The weekend of January 28th, 2022 will forever stick out in my mind- two of my oldest friends flew in from Michigan and Illinois to join me and the hockey guys in California for one last skate. My dear friend Kurt arranged for an hour of ice at the Carlsbad Icetown, recruiting some of the finest Men's League Hockey players in San Diego county to come out and lace 'em up for a friendly Friday afternoon skate. We had a chance to go back to our roots and leave our troubles behind, if not only for an hour. The feel of the ice crunching beneath my blades, the cold smell of the rink, along with the sounds of pucks off the pipe, boardbattles in the corners, and the cheers from the bench- it was all so familiar; those feelings, jitters, the locker room banter and routine. Being back in the rink- what a blessing. That feeling and camaraderie is sacred, irreplicable really. I miss being able to experience that regularly, yet I can't help but to smile as I relive those moments and sit here typing this. Good stuff!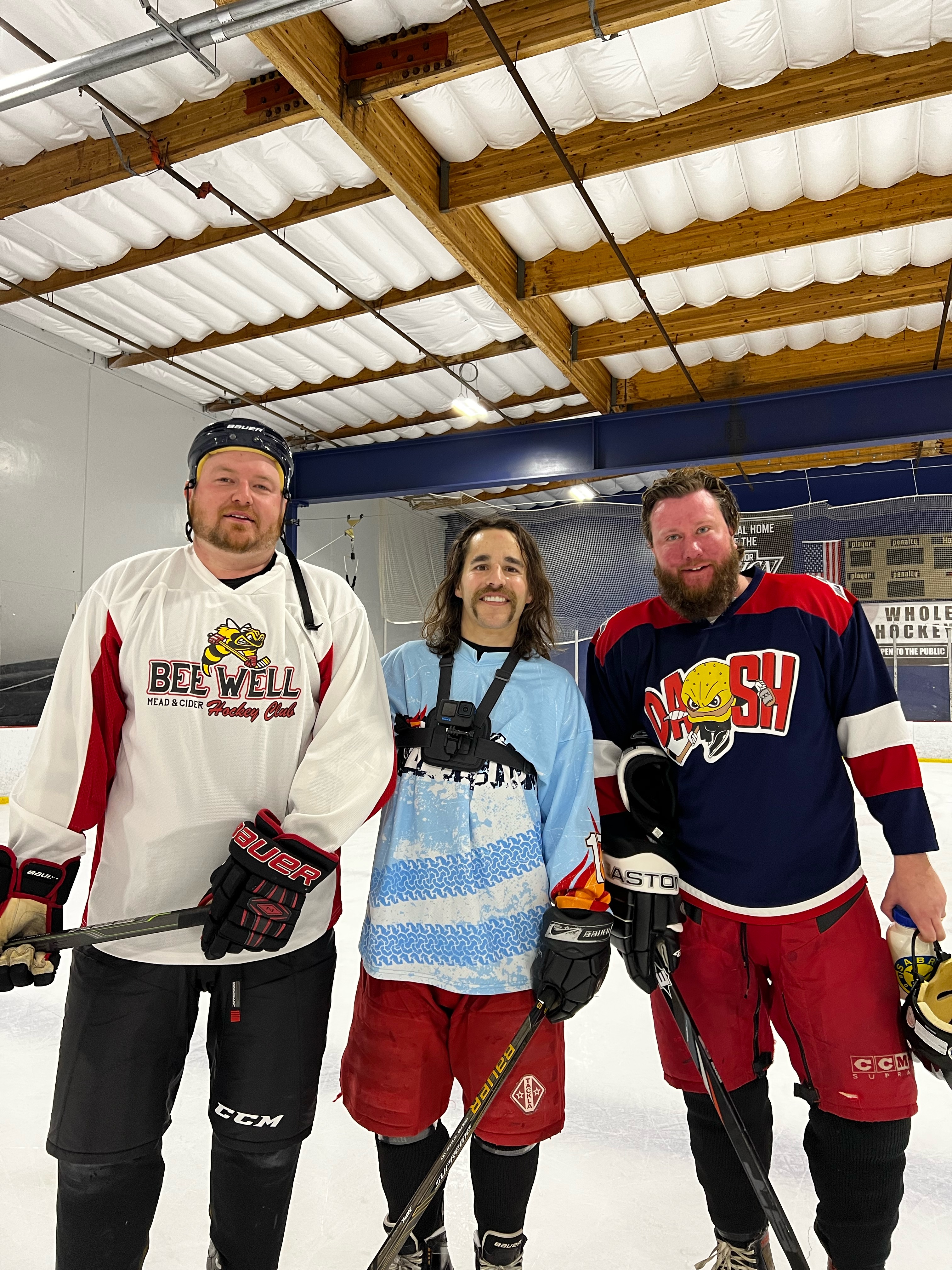 We had some fine 5v5 hockey, loaded with highlight reel goals and saves, followed by a shootout, which ultimately made for a fantastic afternoon and memorable way to finish the career. Kurt and the boys even surprised me with a Pizza Food Truck that showed up post-game. We crushed za, had some beverages, and enjoyed each other's company for a few hours. Finally, the boys even chipped in some funds and cut me a check to help cover some of the outstanding medical bills that come with this disease. It was an incredible weekend filled with some of my favorite things on the planet- hockey, friends, and pizza.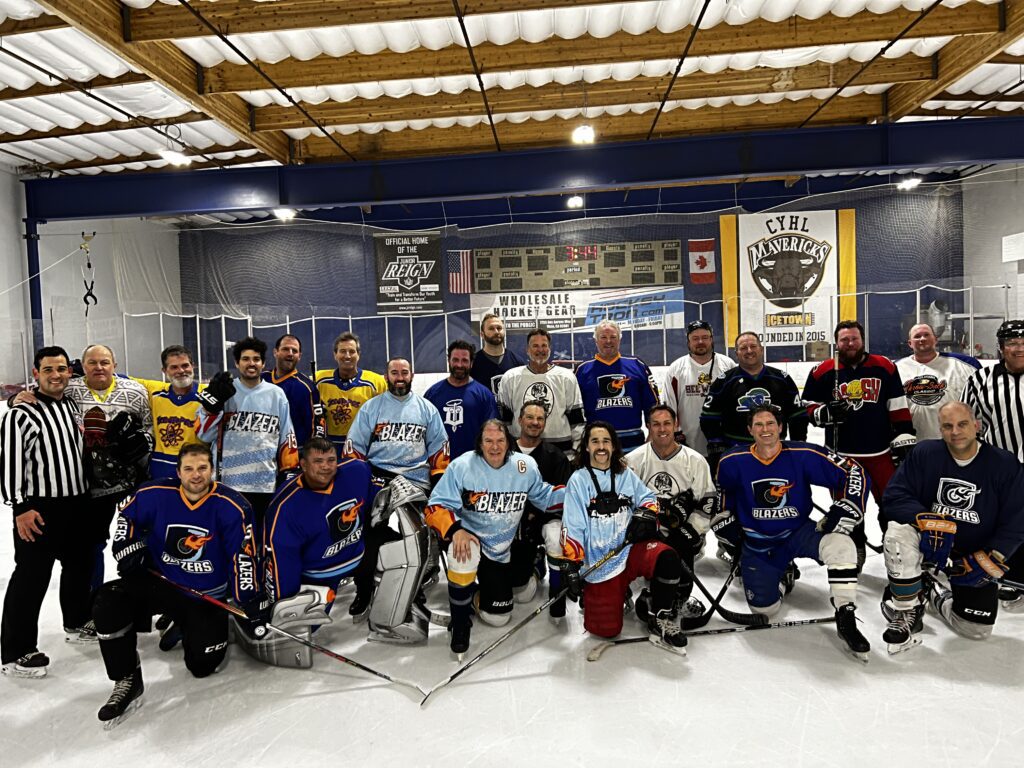 The skate was considered a prime time event as we even had a film crew at the rink to document the encounter! Haha, for real- recently, I've been working with an organization called Compassion and Choices, an advocacy group with the goal of providing the option of Medical Aid in Dying to people across the country. Through this collaboration, I was put in contact with a woman named Serene Dillman. Serene is producing a documentary about Medical Aid in Dying in an effort to show the value and beauty behind this option. Her documentary is called, "Take Me Out Feet First", in which she interviews various individuals throughout the United States who have a terminal illness and are exploring the idea of Medical Aid in Dying. Serene's advocacy, passion, and courage is exemplary, and I'm privileged to be involved in her documentary.
Serene, and her husband, Ray, were out for the weekend of the last skate. They took the time to chat with me for a few days about my feelings regarding Medical Aid in Dying, my experience with cancer, and much more; including learning about my love for hockey, family, friends, teaching, and even video games! Finally, Serene composed a beautiful "profile" for the documentary, which you can read here (Scroll to the very bottom to find me!), along with learning about the other strong and courageous individuals who are involved with her project. Serene is an impressive individual with a fascinating and powerful story. It's been really rad to be involved with her project, and to make some new friends along the way!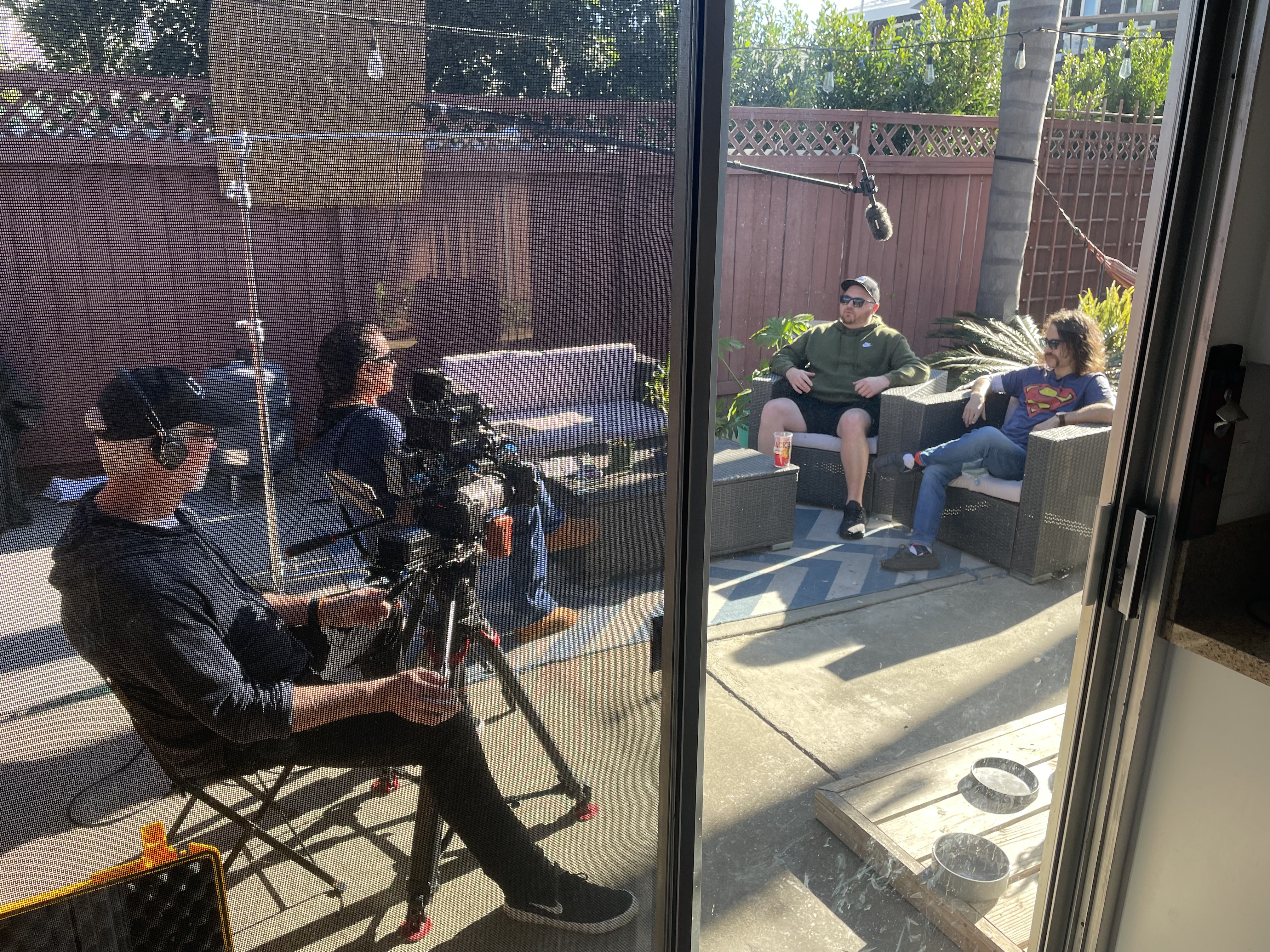 February was a pretty standard month, I would say the highlight was harvesting and trimming the Humboldt Sour Diesel! The nugs turned out to be quite good looking, a dark green with serious pistils (hairs!) entrenched throughout the nugs. The smell is skunky and potent, providing light hints of a citrus-y orange scent. The nugs are also relatively dense; however, I'm still disappointed in the yield as I was only able to produce about 1.5 oz from 2 plants. I think there may have been a night or two in which I neglected the plants which can certainly hinder their growth. We did sample some of the goods, and I have to say- I am thrilled with the effects. The HSD provides a quality Sativa head high; it's a super clean, functional, motivating, and creative high. And if you roll it up in a doobie- it kicks! I plan to continue curing some of the stash, developing that potency and sweet smells!
For now though, I will keep tending to our new strains- Planet of the Grapes, Chemical Sour Diesel, and LA OG Kush! I'm curious about these strains because we decided to try "Autoflowering" seeds this time around vs. "Photoperiod". With Photoperiod seeds, they switch from the vegetative stage to the flowering stage based on the light cycle. For example, the plant hormones switch from vegetative stage to flowering when they start receiving 12 hours of sunlight/darkness instead of 18 hours of light. Photoperiod seeds take longer to grow, about 4 months and they usually produce a larger yield; whereas Autoflowering seeds (our current product) require no light cycle changes and only take about 2 months from seed to harvest.
There's been a lot of good stuff occurring this year, which of course means new changes and challenges. On Friday, February 11th, my best friend in the world died. After more than 97 years on this planet, my Papa took his final breath and left us for good. He had a helluva run and I feel honored and privileged to have had him in my life for so long. We have countless, beautiful experiences that we shared together- everything from a Vegas getaway and fancy dinners, to simply sitting next to him in his lazy boy while having a beer and watching the 'Hawks with a couple of nuked Stouffers.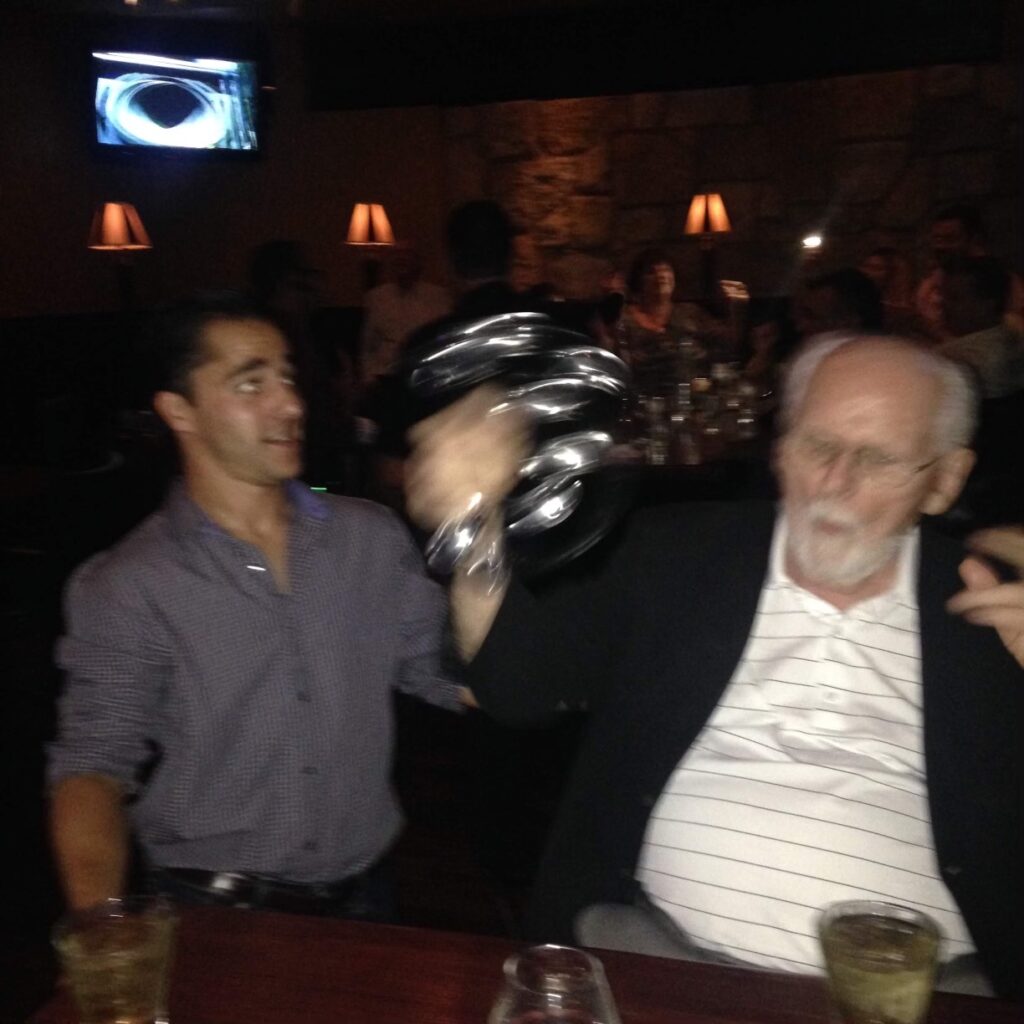 Of course, there's some sadness and grief that comes with any loss, but I feel Papa did such a fine job preparing me for the day he dies; we had many conversations about life and death, what that experience might be like, and also what life would be like when he was gone. He'd always say, "No tears, just cheers! When you're feeling sad about me, go out with the fam, have a beer, and remember the good times!". There's certainly an adjustment period involved, and I'll admit I've been "stuck" on a few fronts (mainly writing); however, I am going to do my best to honor Papa by smiling every day, remembering the good times, and telling tales of the legend that was Papa. He was the best man I ever encountered and his spirit will carry on.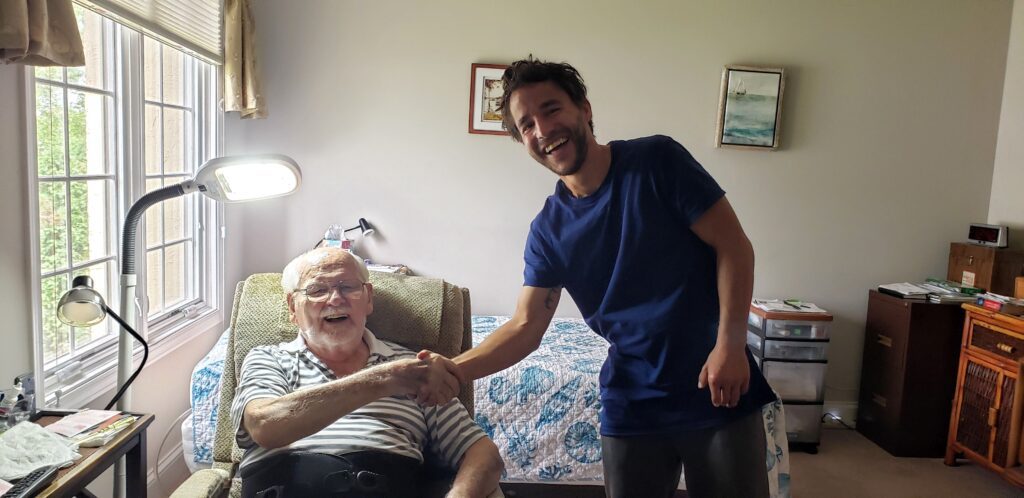 Finally, my mom arrived in San Diego just a few days ago! She is going to stay by me for a few months, supporting me during treatments and the daily grind. We found her a perfect spot right by the Oceanside Harbor- great views and easy beach access! I'm so excited that she is here and even more excited to share that she is officially retired from the teaching profession!
My mom taught special education for over twenty years, she is the reason I am a special education teacher. Her influence on me, along with so many other individuals, is undeniable. It was amazing to see her coworkers, current students, former students, and families shower her with gifts, praise, and gratitude during her last week of school. My mom is the kindest and most gentle person I know (in fact, my New Years Resolution has been, "to be more like Suzy"- I got lots of work to do) and I'm so proud of her and the positive impact she has made throughout her career. I think I'm even more excited to see what the future holds for her, as she enters this new phase of life!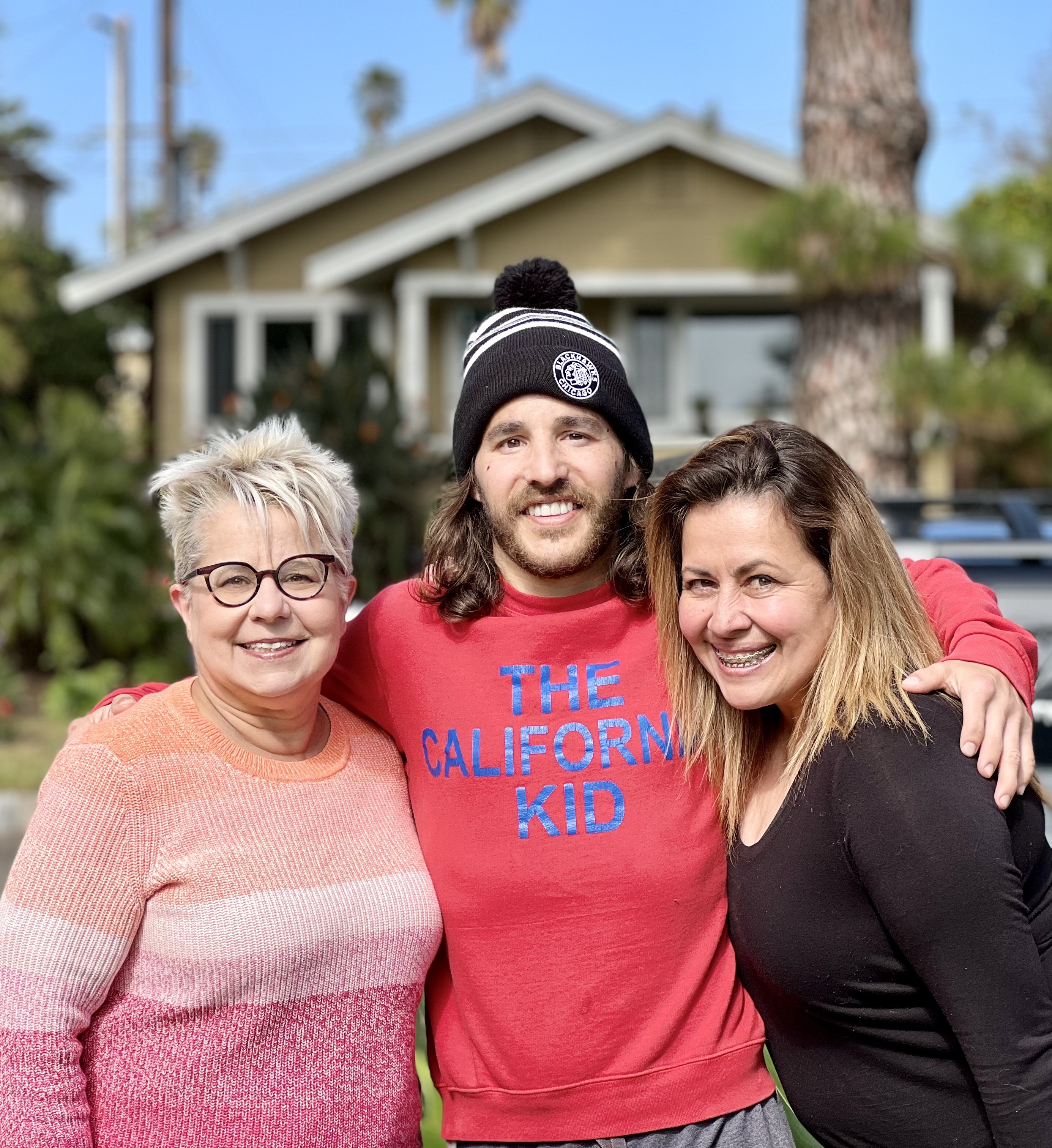 So, for the next few weeks, you'll know where to find us! I'll be roaming around Oceanside, visiting the classroom here and there, enjoying beach walks and spending time with my mom. Feel free to reach out via email, text, ol' fashion telephone call- whatever! I love you friends and am thinking of you all the time.
Cheers!
Flack